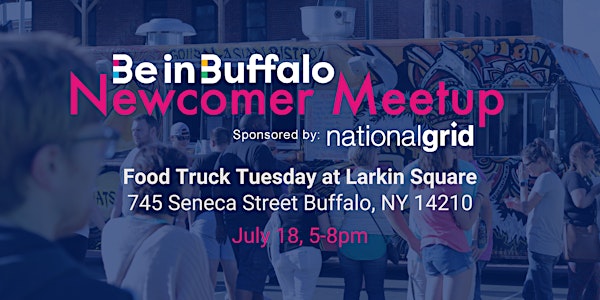 Moving to a new community can be hard. The Be in Buffalo Newcomer Meetup will (hopefully!) help make things easier.
Join us and a bunch of Buffalo newcomers for a drink and easy, unstructured networking where you can meet new faces and learn more about your new home! Compare favorite wing joints, find a new favorite cocktail spot, or learn about a volunteer opportunity – we'll let you all do the talking and provide answers and advice as best we can.
This month we're at Food Truck Tuesday in Larkin Square!
The event features dozens of food trucks, live music, and hundreds of Buffalonians celebrating Summer.
We will have a dedicated space at the raised picnic shelter for the Newcomer Meetup. Head to the circled spot in the map below.
The raised picnic shelter is on the Van Rensselaer side of Larkin Square, near the KeyBank ATM. It's the thing floating in the air!
1 free drink ticket will be provided
Parking is FREE in designated Larkin Square lots. See the map below or view info here.
The Be in Buffalo Newcomer Meetup is sponsored by National Grid.